ESGR RECOGNIZES DAI SOLUTIONS WITH SEVEN SEALS AWARD

By Brandon Soublet
DAI Solutions has been recognized with the Seven Seals Award by the Department of Defense's Employer Support of the Guard and Reserve (ESGR). Founder and CEO Dr. Sheri Dougherty accepted the award on behalf of the company on March 3.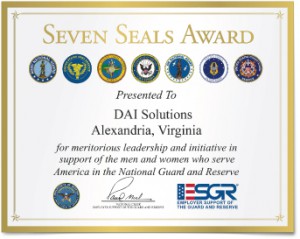 The Seven Seals Award is presented in recognition of significant individual or organizational achievement, initiative, or support to promote the ESGR mission. It is the broadest and most inclusive award given by ESGR, an organization that develops and promotes supportive work environments for service members in the reserve components through outreach, recognition, and educational opportunities.
The award is the second recognition of DAI Solutions by ESGR. In July 2016, Project Manager Cindy Nguyen was honored with ESGR's Patriot Award, which recognizes an individual's efforts to provide workplace flexibilities to members of the guard and reserve.
"We are committed to promoting a culture that enables our colleagues to serve our nation, and we are honored to be recognized by ESGR for these efforts," Sheri said. "It's tough having a life and a career and also giving your service to the military. Anything we can do to help, I'm 250 percent there."